Welcome to CobraConnector.com
This is the Internet home of the amazing and indispensable new product, the Cobra Connector.

This unique new product simplifies traditional methods of irrigation design and installation. The Cobra Connector installs in seconds and is completely adjustable in any direction. This strong, lightweight connector is available in a variety of lengths ranging from 6" to 3'. In addition to the 1/2" x 1/2" series, the Cobra Connector is available in 1/2" x 3/4" and 3/4" x 3/4" on all sizes.
How use and install The Cobra Connector
Order The Cobra Connector Today!
Cobra Connector Features: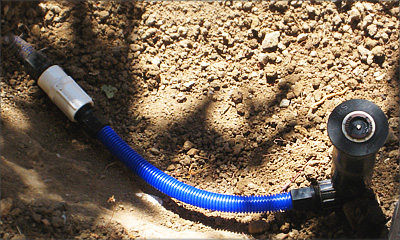 Kink resistant design allows the Cobra Connector to bend to extreme angles and still provide a smooth flow of water.
High operating pressure rating to 100 PSI makes the Cobra Connector the right choice on all types of irrigation projects.
Union-designed swivel ends provide an anti-theft feature and quick pre-assembly of components.
Pipe and fittings are protected from impact damage caused by foot traffic and maintenance equipment. This rugged dual walled device also absorbs potential damage due to water hammer.
Exact placement of sprinkler heads is assured by using the Cobra Connector. This versatile connector can also be adjusted in any direction - up, down, side to side.
Simplifies retro fitting of existing sprinkler systems. Also allows sprinkler heads to be easily removed and repaired.